For persons with disabilities, Prime Minister Modi suggested a few years ago using the term 'Divyang' (divine body) instead of 'Viklang'. Despite the fact that they had been socially excluded for so many years, Hon'ble Prime Minister Narendra Modi saw this as Divyang and gave an invaluable message to the world with one precious word. Disability should not be seen as a weakness or a curse. Rather, as someone with many powers, they should be respected like others. He/she should also develop their skills; this is our duty to ensure their success. Even after so many years of disability and after so many years of independence, along with his talent, his personal identity, a second step was also taken by the NDA government in 2016. That was to give them a card for all the benefits, facilities and identity with Unique Disability Identification (UDID). A special feature of the UDID card allows their recognition in various ways and the provision of facilities to them accordingly to provide accessible facilities for persons with disabilities. As for now, how many differently-abled individuals have received the benefits of UDID, and how many beneficiaries are still unaware of the scheme's benefits and have been unable to take advantage of it, and why are they not getting it, and how do they overcome such challenges. A detailed analysis of UDID has been made here, which will assist in improving the scheme. Additionally, a number of suggestions were offered for future improvements.
OVERVIEW OF THE SCHEME:
"UDID is a national database of individuals with disabilities (PWDs) created by the Department of Empowerment of Persons with Disabilities, which provides them with unique identification cards."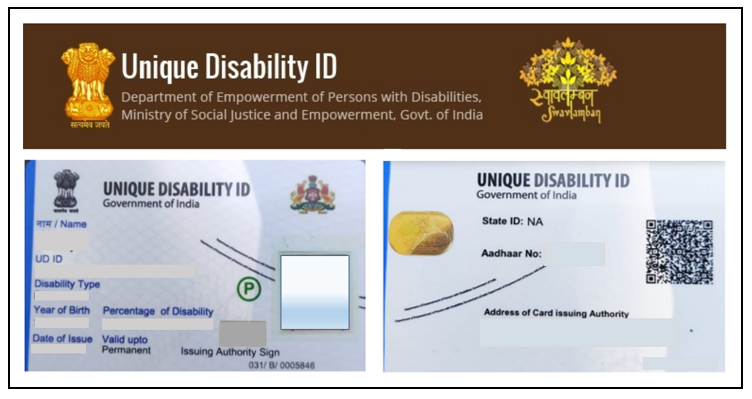 The chief aim of the initiative is to help disabled persons obtain the new UDID cards and disability certificates to be able to avail of the government's programs and benefits through its various Departments and Ministries.
For the first time in India's history, work was done that was left unattended for years. Our honorable Prime Minister Shri Narendra Modi has done this work. After 70 years of independence and after 2014, disabled people living in the country were given a new name as "Divyang". As part of the scheme for the welfare of the disabled people living all over the country, a wonderful program has been implemented that can help them to live their lives as skilled individuals that would help others and the society as a whole.
"Unique ID for Persons with Disabilities" project is being implemented with a view of creating a National Database for PwDs, and to issue a Unique Disability Identity Card to each person with disabilities. The project will not only encourage transparency, efficiency and ease of delivering the government benefits to the person with disabilities, but also ensure uniformity. The project will also help in stream-lining the tracking of physical and financial progress of beneficiary at all levels of hierarchy of implementation – from village level, block level, District level , State level and National level.
Disabled population census-2011
According to the 2011 Census Out of the 121 million people in India, 2.68 million are considered disabled, which is 2.21% of the total population.

56 % of the disabled populations (1.56 Cr) are male, while 44 % (1.18 Cr) are female Females. The male and female populations are 51% and 49% respectively.
Budget Allocation:
Budget allocation of the department of empowerment of Persons with Disability in the scheme of assistance to disabled persons for purchase filling of Aids and Application was shown in the above table the actual 2019-20 revenue 47.09, budget estimates 2020-21 revenue was 21.58, revised estimates of 2020-21 was 15.11 and budget estimates 2021-22 was 21.91 respectively. As per 2019-20 revenue and budget estimates of 2020-21 & budget estimates of 2021-22 were decreased.
A wide range of disabilities are covered by the disability guidelines: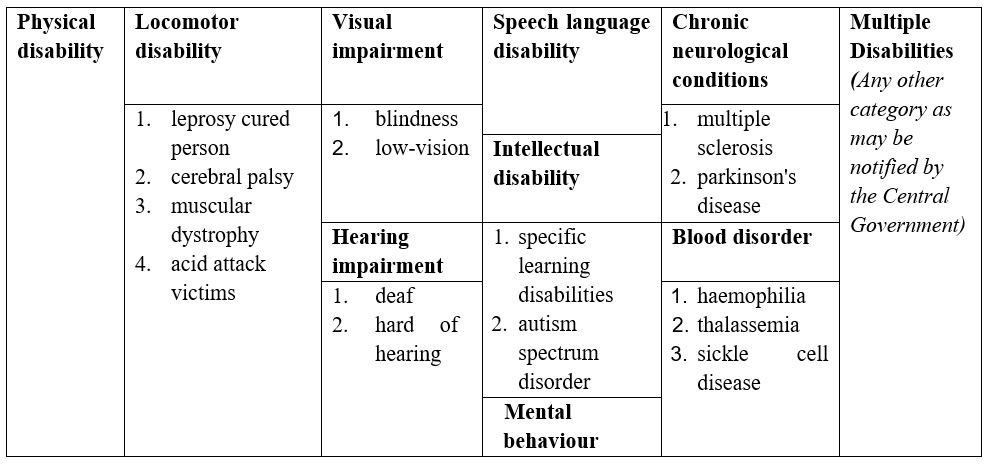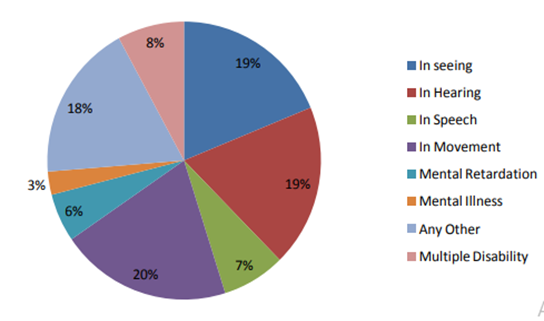 According to the Census 2011, approximately 20% of the invalid population in India suffers a disability in movement, 19% of the population is Blind or visually impaired, another 19% have hearing impairments. 8% of the population has several disabilities.
IMPACT OF UDID SCHEME:
Online availability of data of Persons with Disabilities across the country through a centralized web application.
Online filing and submission of registration application form for disability certificate or Universal ID card.
Quick Assessment process for calculating the percentage of disability by the hospitals.
Through the UDID project online renewal and update of information by Person with Disabilities by them or on their behalf will be easier.
Efficiency and ease of delivering the government benefits to the person with disabilities.
Financial progress of beneficiaries at all levels of hierarchy can be tracked starting from the village level, block level, District level , State level and to the National level.
The UDID card will be the single document of identification, verification of the disabled for availing various benefits in future and hence the PWDs will not need to carry multiple documents with them.
As On 25-09-2021 62, 33,470 UDID Cards have been generated.
FUTURE POLICY PERSPECTIVE:
Track the benefit providing to the PWDs through the UDID for PWD and try to address any deviations.
The state/UTs shall leverage the benefits of UID for PWD and distribute the benefits accordingly.
By leveraging the UID for PWD, the Government can develop sound and fair disability assessment criteria and procedures, focusing on support needs to maintain and improve functioning.
Establish complaints and monitor mechanisms through UID for PWD. Encourage the monitoring of service quality by disabled peoples' organizations and other NGOs.
Step up training and capacity building through their requirements and track the progress: In low-income settings, community-based rehabilitation programmes can provide training to people with disabilities and their families to manage their support needs and create links with self-help groups for information and advice.
Training schemes for sign-language interpreters and advocacy workers will help improve supply of these vital personnel.
Plan adequately for the transition to a community-based service model, including human resources and sufficient funding for the transition phase.
Progressively develop and reallocate resources to build community support services, including the possible transformation of institutions into alternative care services such as resource or day care centers.
CHALLENGES:
In India there is huge problem of illiteracy in rural & remote areas, due to the illiteracy many people don't know the scheme, urban and people living in cities are trying to get involved in this scheme but they are unable to get UDID.
Current process of applying for a disability certificate requires multiple visits for registration, assessment and certificate collection. There is a challenge to plan any scheme for the beneficiaries due to the lack of information. The purpose of the UDID is to track the physical and social progress of the disabled, so that people can easily apply online and get services at their doorstep.
Our country is made up of villages and more than 70 per cent of the settlements live in rural and remote settlements. Due to a lack of plans and technical knowledge, they find it difficult to get benefits. It is very important to remove the difficulties and give them benefits.
The government infrastructure needs to put effort and resources into creating awareness and creating the demand for the service.
UID cards are not currently linked to any direct benefits, such as pensions. UDID cards are not widely known, and thus most people don't apply for them on their own.
Under various disabilities, sometimes due to the lack of availability of an appropriate doctor, the problem arises, it is very important to get rid of it.
RECOMMENDATIONS:
Under different disabilities, people sometimes take benefits despite improvised disability, in this context the UDID card should be corrected and given a different color card so that it can differentiate between improvised and permanent disability.
The illiterate and elderly people with disabilities living in rural and remote communities should be made aware of their rights by providing them with the possibility of UDID through a mobile van.
An ASHA worker should be appointed as a disability assistant one day a week in the rural community/ remote areas because of the lack of internet access and technical knowledge.
Not all disabilities are visible, so more research should be done in this area to ensure that the UDID can be accessible by everyone who has special needs.
Annual Budget allocation should be increased and in proportion to the population of people with disabilities.
Gender specific needs and special separate budgeting for women with disability is an urgent need.
Due to the presence to widespread inequality and inaccessibility faced by the targeted group, the process of obtaining the UDID should not be limited to the online application. There should be accessible walk-in offices/centers for this.
There should be a separate desk/office for women and LGBTQI who have disabilities with women-only staff.
UDID offices/mobile vans should have CCTV cameras to enhance security of people with disability.
For this scheme, maximum publicity and dissemination should be done in the regional language in all the states and union territories.
In all States/UTs, mass camps should be organized once a month in villages and urban areas to provide such facilities to the people.
The process should be designed so that this UDID card can be applied for weekly once in a Panchayat at village level, to benefit illiterate rural and remote residents.
To spread the UDID scheme as widely as possible throughout all colleges and schools under the National Service Scheme.
It should fill the gap in all field locations, taking into account the necessary tools and facilities for measuring disability.
The central government should supervise the officers and officials associated with the scheme from time to time.